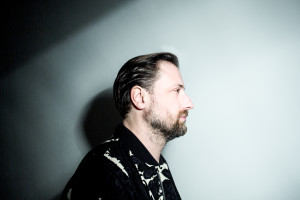 Borrowing his name from a character from William Burroughs' famed novel "Naked Lunch", he has a solid dj/tastemaker reputation, having worked for seminal record stores, labels and with infamous dj residencies at clubs like Food & Fuse under his belt. He co-runs the kicking Leftorium clubnight in Brussels, produced "disco-techno" records for the likes of Kompakt, Gigolo or R&S – with ongoing DJ support from Andrew Weatherall, and recently remixed Tuff City Kids, La Jungle, Marcel Vogel, Ruf Dug, Soldout, Rotten City and Eyes Of Others
Together with independant power-house !K7, he releases on his own Subfield imprint, with so far, two artist-albums, "Unspell" & "Drape" broadening his musical scopes… the latter being a full-on indie/postpunk/noise affair within a live band and with whom he's performing explosive live-shows as singer/keyboardist, and to critical acclaim at international showcases and Belgian festivals.
 "Drape" is Mugwump's second album which fuses a more discreet electronic canvas with an occasionally heavy indie rock feel and outstanding lyrics, all topped off with a French-Belgian-tinged vocal and lyrical topicality. Post-Punk, Indie Pop, Psych & Electronic collide while Geoffroy Mugwump delivers conscious lyrics over nine songs ''soundtracking our torments in the Age of Laissez-Faire and Aestheticisation''.
REVIEWS
"Nobody should be surprised that Mugwump's done a guitar-led album nor he's done it well…like a Gallic Mark E Smith or James Murphy, he'll draw the even-more skeptical listener in… This album is gothic (in a Joy Division or Echo & The Bunnymen sense…), weird and full of an abstract style of storytelling that takes you into a sleazy, psychedelic otherworld, without ever truly explaining it. Proper."
Joe Muggs MIXMAG
"Doom-y synths, Wire-y guitars, Johnny-Marr-ish rockabilly, low-key majesty…. a certaine Cure-like grandeur. "
UNCUT
"Verwacht het onverwachte… opnieuw weet Mugwump te verrassen en te overtuigen….'Drape' is een lange rit, maar eentje die nergens verveelt. Meer zelfs: de plaat wordt beter bij elke afspeelbeurt en voelt als een koortsdroom die slechts mondjesmaat zijn geheimen prijsgeeft. Sterk. Erg sterk."
DAMUSIC
"als hätte Ghostpoet neuerdings eine Mathrock-Band hinter sich stehen"
NEOLYD
"Al klagend en predicerend weet deze duistere Nick Cave (nog duisterder, jawel) ons mee te sleuren in 'de soundtrack voor onze kwellingen in een tijd van laissez-faire en esthetisering'."
INDIESTYLE – CUTTING EDGE
"Een gewaagde plaat die de wetten van conformiteit, liedstructuur en toegankelijkheid negeert en een groep die volop voor evolueren kiest"…
INDIESTYLE – RELEASE RADAR
"Met single 'No trepidation', een mix tussen onrustige postpunk en eigenzinnige indie, lichtten de heren al een tipje van de sluier op"
INDIE STYLE – CONCERT TIPS
" Geoffroy franchit un nouveau palier, où l'électronique est reléguée en second plan. Entre postpunk nerveux, rock lourd et noise, "Drape" s'affirme comme un album de rock à la Soulwax première période. Les guitares sont épaisses, le batteur cogne et le chanté-parlé de Geoffroy amène une nonchalance bienvenue."
TSUGI
"le feeling particulier de la musique parfaitement maîtrisée donne la sensation d'un post-punk d'aujourd'hui, ayant intégré tout ce qui s'est fait depuis, un post tout ça, quelque part… Après des écoutes répétées de Drape, le mot qui vient à l'esprit est : alchimie. Du très bon boulot."
SILENCE IS SEXY
" De producer is een groep geworden, de DJ een zanger. In plaats van zich veilig weg te stoppen achter zijn computer ging Geoffroy 'Mugwump' Dewandeler voluit voor de metamorfose"
BRUZZ
"The Belgian producer and disc jockey is back with a bang….interesting new direction for a producer whom has never been one to take half measures "
RANSOM NOTE
"Mugwump se renouvelle de bien belle manière et débarque là où on ne l'attendait (presque) pas"
METRO
"Les influences musicales s'avèrent totalement assuméées entre The Cure, The Stranglers, Echo & The Bunnymen, Siouxsie & The Banshees, The Chameleons, The Sound, du krautrock, du garage, Thee Oh Sees et The War On Drugs pour les synthés, on aime le soin apporté à l'esthétique. Tout bon !"
LE SOIR
"Geoffroy s'est intégré dans un groupe pour mieux se concentrer sur le chant et les claviers. Initiative heureuse qui lui laisse tout le loisir de faire le lien entre la New Wave de son adolescence et le rock indie contemporain…Soigné, un véritable travail de mélomane…"
LA LIBRE BELGIQUE
> BILBO RECORDS MEI AANRADERS
> CAROLINE MUSIC record of the week
"I like this record a lot" – Klaus Fiehe/ WDR 1 Live
"hot shit!" – Mel Castillo/ M 94.5
CURT
excellent album feature
Faze Magazine
album review
"No Trepidation" single airplay
Radio Dreyeckland
Radio Horeb
Radio Stuttgart
Radio Feierwerk
"Drape" album airplay confirmed:
FluxFM (+ interview in Berlin)
M 94.5 radio
BR Zündfunk
Klaus Fiehe/ Wer 1 Live
ByteFM
NDR Nachtclub
Radio Dreyeckland
Radio Horeb
Radio Stuttgart
Radio Feierwerk
NDR Info
NDR Blue radio
917xfm
Oldenburg Eins
bookings
BE : Live Nation / FR : Bi-Pole
Second "Drape" single "Little Middle Grinder" (SF012) comes out on 26/10/18 trough !K7 with Mugwump & FK Club remixes + new video by Lovo/Barbaro Films
''Un-Draped & Draped-Out'' (SF013), a collection of remixes from ''Drape'' by The Hacker, VoxLow (Born Bad), Black Spuma (Lauer & Fabrizio Mammarella), Max Pask (Throne Of Blood), Curses (Correspondant), Krikor (L.I.E.S), Front De Cadeaux (Subfield), Rheinzand (Les Disques de La Mort) & Strapontin (Optimo Music) + ''Drape'' instrumental versions is out trough !K7 on 14/12/2018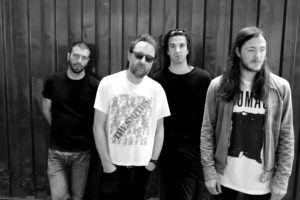 RECENT LIVE SHOWS
Beursschouwburg / Stoemp Festival BRUSSELS
The Social (+Justin Robertson) LONDON Olympic (+ La Mverte) PARIS
Central BRUSSELS
Kinky Star GENT
SWTC Festival / De Singel ANTWERP
Urban Spree BERLIN
DOUR Festival
UPCOMING
12/10 La Station, w. Mourn (ES), Camera (DE) PARIS
19/10 ADE talk @ De Brakke Grond,(Panel) AMSTERDAM
27/10 Musiques Volantes Festival w. Taxi Kebab, Meridian Brothers NANCY
29/10 Den Atelier w. The Voidz LUXEMBURG
14/11 Facs/Mugwump/Secte @ Nuits Plasma / Magasin 4 BRUSSELS 14/12 Mugwump/Whispering Sons @ Autumn Falls festival / Democrazy GENT
More shows TBA
---

---